eTrain Features & Benefits
eTrain is inexpensive. It's easy to set up and use. It is an e-Learning tool that incorporates proven learning strategies. Text, audio, photos and illustrations, animation and video can all be used to enhance learning and increase retention.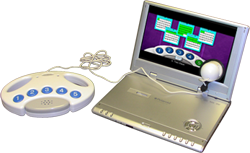 eTrain is available any time, anywhere, 24/7. Unlike standard online computer training, the equipment used in eTrain is easy to use and understand, it eliminates any concerns about employees accessing unauthorized internet sites, and it overcomes language barriers. Students learn in their own language.